Rediscovery of JY's "Portrait of a Dead Witch": the story in full.
John's "lost" painting, "Portrait of a Dead WITCH", has been rediscovered!
This rare portrait of an early computer has been located after a plea by the artist and The National Museum of Computing, where the computer itself has been fully restored to working order.
Kaldip Bhamber, an art lover, recently bought the huge painting to display in her Jam Street Café Bar in Manchester, a city renowned for its early computer heritage. The photo shows the painting in its current surroundings.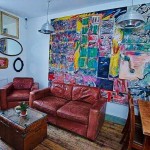 On Wednesday, 24th February, John and computer expert Stephen Fleming visited the Café, and the painting was unveiled. Here is the story as presented on the The National Museum of Computing website: Lost Dead WITCH portrait rediscovered

Also, BBC Radio Manchester were in attendance; here is a short video from them: clip

Here is the link to the gallery of images of the opening, recently posted in the "EXHIBITIONS" section.

UPDATE 6th April 2016: Recently, online editions of the Guardian and Newsweek have also covered the discovery.

Go here  for John's post, My Little Kafkaesque Story, which set things rolling.

This entry was posted on Tuesday, June 14th, 2016 at 7:50 am

You can follow any responses to this entry through the RSS 2.0 feed.

<!-­‐-­‐  Start  of  Footer  -­‐-­‐>