HOME
This is the Home page of artist John Yeadon's weblog
This website comprises a comprehensive selection from the archive of artist JOHN YEADON. It also includes his BLOG.
John's creative practice is fully explored, with the site covering a period of some 50 years of artistic activity. During this time, the work he has produced has been both deeply personal and remarkably wide-ranging. The site introduces an extraordinary series of creative processes, demonstrating the evolution of his ideas through to the images themselves – an unquestionably rich and powerful body of work – in the form of an extensive and thoughtfully presented retrospective.
The web-archive, WORK, with drop down menus, can be found on the right. The BLOG can be found on the left.
The WORK contains art production under ART, plus installation views of his EXHIBITIONS. Published articles on the work are located in TEXT.
The BLOG has a number of categories which are 'notes on things of varying importance', and Yeadon's Art Lessons..
If you would like to view the images in each gallery in sequence, click on the first image in each and a LIGHTBOX facility will kick in.
This site is aimed at a broad audience, but specifically towards artists, art students, art historians, curators and other academics. The site contains sexually explicit images which might cause offence..
BREAKING NEWS!  
1. The Artist at Work  In November, Artist Kevin Rossin filmed John in his studio, working on his 'Sellafield Control Room' painting. The results are captured in glorious 360 Video: see Kevin's page here. A YouTube version of the end result can be located here.
2. Exhibition – Three Witches.. Yeadon at 70 The National Museum of Computing at Bletchley Park brings together John Yeadon's 1982 'Portrait of a Dead WITCH' and his recent second version of this, the worlds oldest working computer, 'It's Alive. Harwell/Dekatron WITCH, 2017'.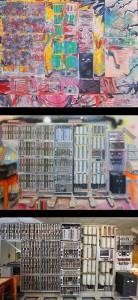 ———————————————–[click for full-size image]

The exhibition runs from 1st February – 4th March. The museum is open in the afternoons of Thursday, Saturday and Sunday 2018. Further details > here

 

<!-­‐-­‐  Start  of  Footer  -­‐-­‐>