Lesson 52
The Queen's Fanny
Henry Moore had a dignified, conservative and down to earth image, and he spoke about his work straightforwardly with measure. For many, his work has an erotic dimension, yet Moore always resisted talking about his sculpture and sexuality, saying only that his work obviously did relate to sex as both were about 'form'.
In 1978 on an BBC Arena television programme, Henry Moore talked about the Leonardo anatomical drawings in the Queen's Gallery, part of the Royal Collection Trust. He said that one of the most moving and powerful drawings in the Queen's Collection was Leonardo's drawing of the genitalia of the corpse of an old woman:
"It has such a tenderness such a sense of flesh, it is both powerful and has pathos".
He said that this drawing of a vagina almost makes him cry.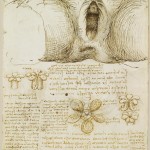 Vulva and Anus. Leonardo da Vinci.

With candour and sensitivity this 80 year old Yorkshireman still had the power to surprise and make the establishment uncomfortable.

This entry was posted on Monday, July 10th, 2017 at 11:08 am

You can follow any responses to this entry through the RSS 2.0 feed.

<!-­‐-­‐  Start  of  Footer  -­‐-­‐>